BROADBAND ANTENNA

FOR RADIOCOMMUNICATIONS

WITH MOBILE OBJECTS
Antenna application area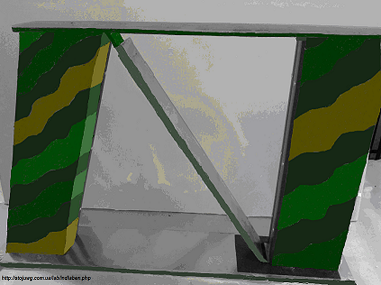 . The antenna can be used both on land mobile objects (tanks, infantry fighting vehicles, armored vehicles, cars), and at air support facilities (helicopters). The use of a small-size broadband antenna increases the level of protection of communication channels of control by armed forces, but does not unmask military facilities. Its use in mobile communication equipment allows to increase the level of controllability, reliability and stealth transmission of information and to increase the volume of messages by using reliable, high-speed types of modulation such as broadband and noise-like types of modulation, signals with hopping frequencies.
Main characteristics
1

Band of operating frequencies

30-120 MHz

2

VSWR

no more than 2.0:1

3

Range gain.

+2 dBi@30MHz
+4 dBi@120MHz

4

Input impedance

50 Ohm

5

Maximum radiated power

200 W

6

Dimensions

500Х500Х150 mm
Horizontal mounting.

There is an experimental sample that has been tested.
Antenna Directivity Diagram

We are ready to cooperate with manufacturers and investors who are interested in the industrial release of these devices. We are ready to put the experimental samples for testing by you.

At your request, we can make an individual order.